How to Make a Cookies for Santa Plate with Cricut
Make the holidays even more special with a "cookies for Santa" plate. This cute plate is so easy to make!
If you're new to Cricut, be sure to check out these Cricut tutorials for beginners first.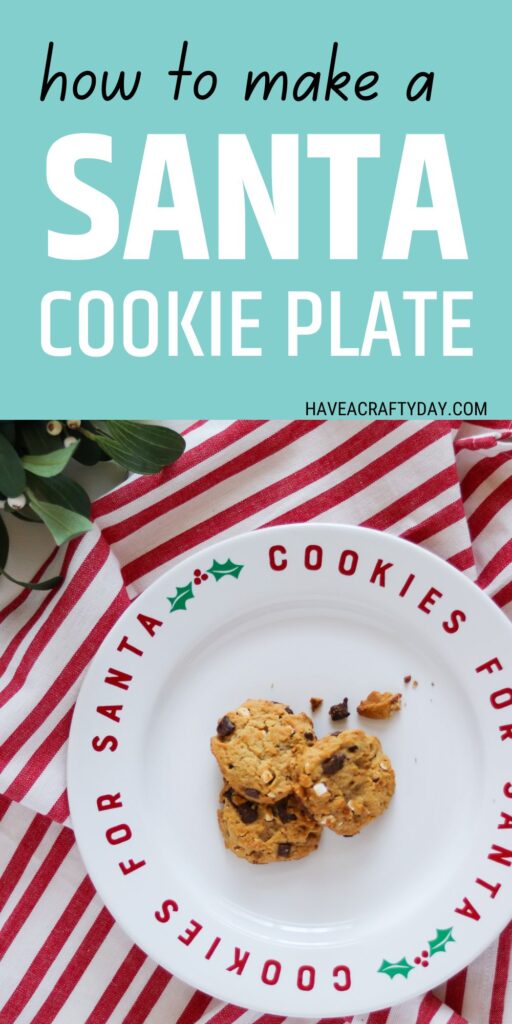 This post contains affiliate links. By purchasing an item through an affiliate link, I earn a small commission at no extra cost to you. As an Amazon Associate I earn from qualifying purchases.
I designed this cookie plate with the design on the rim, to keep it safe for food. This also makes it easier to wash.
If you want to make a temporary plate, use removable vinyl, but if you want to use it every year, use permanent vinyl.
How to Make a "Cookies for Santa" Plate
Supplies Needed:
Directions
Upload the design.
Measure your plate and resize the design if necessary. The plate I used was 10.68″. (You can test this by creating a circle under the design and resizing it until it fits. Be sure to measure the rim as well.)
Attach the elements that you want to keep together. For instance, I attached each set of letters, the berries, and the leaves.
Cut the design as usual.
Weed the cut vinyl.
Cut apart the design if needed.
Apply transfer tape to the weeded design.
Clean the plate with rubbing alcohol. This removes any oils from your fingers.
Use transfer tape to apply a set of leaves.
Then apply one set of "cookies for Santa". I did the top set first, making sure it was centered.
Smooth the vinyl as you go to make sure that there are no bubbles.
Apply the other set of leaves.
Then apply the other set of words.
Finally, apply the berries.
If you have trouble getting the words on the plate, cut them apart and manually space them out. I let the top edge stick to the plate and worked the vinyl toward the center of the plate as I went.
Due to the nature of vinyl, this plate will need to be hand-washed. Do not microwave.
I have a matching Santa mug coming soon!
Other Christmas Crafts
Download the Santa Cookie Plate SVG
Free downloads are for personal use only. Please do not redistribute or sell.
Pin for Later!