Which Cricut EasyPress Should I Buy?
If you're shopping for an EasyPress, you're probably confused by all of the options. There are so many sizes and now there are so many new types available! Learn more about which Cricut EasyPress you should buy.
You might also like this post on how to use a Cricut EasyPress.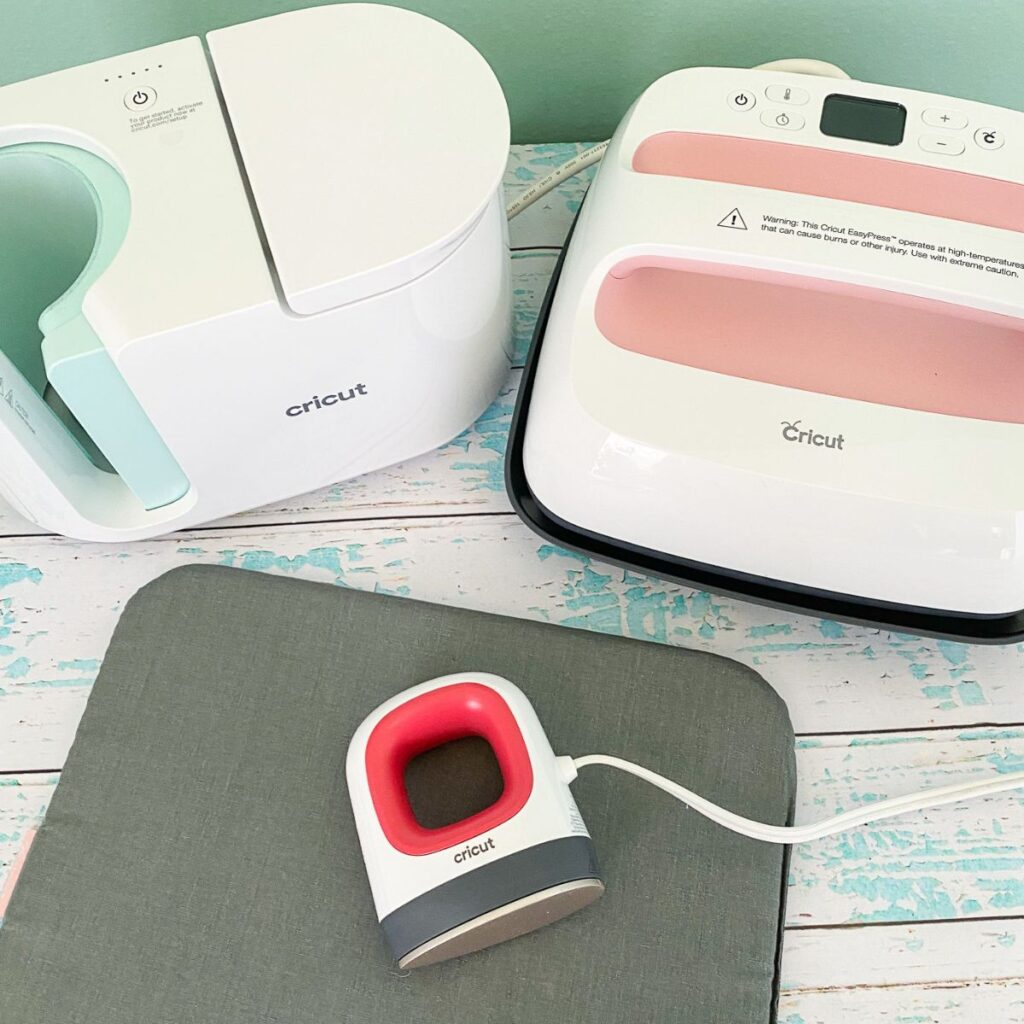 This post contains affiliate links. By purchasing an item through an affiliate link, I earn a small commission at no extra cost to you. As an Amazon Associate I earn from qualifying purchases.
What is an Easy Press?
A Cricut EasyPress is a tool that is used to apply iron-on vinyl faster and more efficiently than an iron.
It heats to 400º, which is hotter than a household iron gets. It also heats more efficiently and evenly than an iron, which allows you to spend less time pressing your design. This means more time for crafting!
All Cricut heat presses work with iron-on vinyl (also called heat transfer vinyl or HTV), infusible ink, or sublimation.
Iron-on vinyl can be used with a regular iron, but it will take longer and there's a higher chance that you will mess up the design when you move the iron.
Infusible ink should be used with a heat press because it needs to be heated to 400º for the process to work right. Using it with an iron will result in a lighter-colored design.
When I first bought my Cricut, I didn't think that I would need a Cricut EasyPress, but I bought one and I've never regretted it. It saves me so much time!
There are also heat press machines from other brands, but they're a bit bulky for most hobby users. The EasyPress also feels really safe if you're a scaredy-cat like me.
(If you sell t-shirts though, a heat press might be the better purchase for your shop.)
Which Cricut EasyPress Should You Buy?
Let's start by talking about the different types of EasyPresses and how they're different from each other.
Types of EasyPresses from Cricut
Cricut currently offers several types of EasyPresses.
EasyPress 2
EasyPress 2 is available in 3 sizes: 9 x 9″, 12 x 10″ and the mini.
The 9 x 9″ size is perfect for pillows, t-shirts, tote bags, and aprons.
The 12 x 10″ size is perfect for larger items like sweatshirts, larger t-shirts, banners, and blankets.
The EasyPress mini works best for small items like shoes and stuffed animals.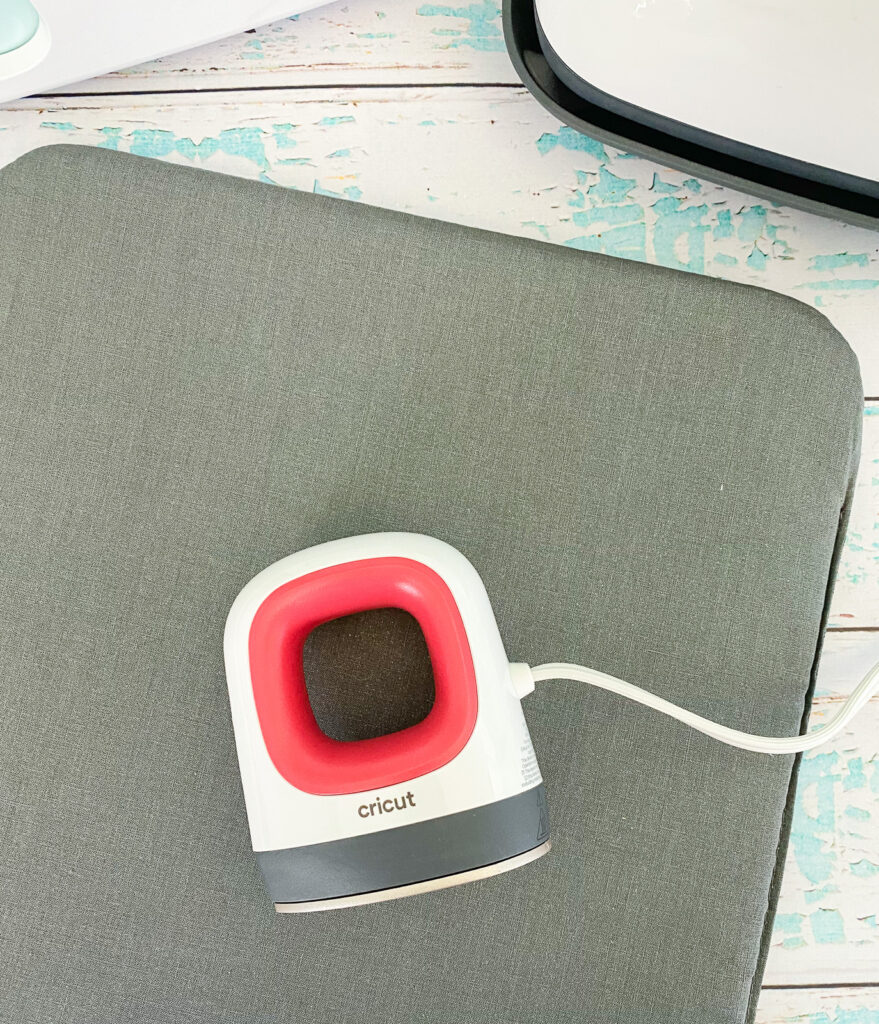 I have a 9×9″ EasyPress 2 and find it useful for almost everything I make.
EasyPress 3
The EasyPress 3 is the new version that works with the Cricut Heat app via Bluetooth. This takes away the guesswork about how long to heat the material and what temperature to choose.
It has to be used with the app on a mobile device.
It is available in the mini, 9 x 9″ and 12 x 10″ sizes.
What's the Difference Between the EasyPress 2 and the EasyPress 3?
The difference between the EasyPress 2 and the EasyPress 3 is that EasyPress 2 requires you to manually select the temperature and time for each surface.
The EasyPress 3 uses an app (via Bluetooth) to select the correct temperature and time for each surface.
AutoPress
The AutoPress is the newest EasyPress version. It has a 15 x 12″ plate.
How is the AutoPress Different than the EasyPress?
The AutoPress is similar to a regular heat press machine. The temperature and timing are set with a pod that allows 4 presets.
How is the AutoPress Different than a Regular Heat Press?
The AutoPress is easier to use and can be open and shut easily with 2 fingers. It's also a bit smaller than typical heat press machines.
Mug Press
The mug press is used to add designs to mugs. The mug press works with infusible ink and sublimation. You must use Cricut mugs or sublimation mug blanks.
Hat Press
The hat press is very similar to the EasyPress 2 mini, but the base is curved and it comes with a curved pressing form.
Should I Buy a Bundle?
If you are new to Cricut, buying a bundle can save you a lot of money on supplies.
I recommend looking at the bundles to see if you like what's included. If you already have ideas for what you want to make and it's not included, buy that instead.
But if you're getting started and you're not sure what to make yet, buy a bundle to get started crafting.
They sometimes include products that you wouldn't have chosen for yourself and that can be helpful for the creative process.
Considerations When Buying an EasyPress
There are many things to think about before choosing your EasyPress.
The size and type you choose will depend on what you like to make. For instance, if you want to make a ton of hats, get a hat press. If you love making mugs, get a mug press.
For most hobby users though, buying all of the versions is a bit excessive.
If you make a variety of items, I recommend the EasyPress 2 in the 9 x 9″ size. It covers most things that you want to make.
If you plan on opening a store to sell items, consider buying the higher-priced EasyPresses that will save you time.
What Else Do I Need to Use a Cricut EasyPress?
You will need a cutting machine, iron-on vinyl, weeding tools, and an EasyPress mat.
Brands don't matter. The EasyPresses will work with other cutting machine brands. Same with vinyl.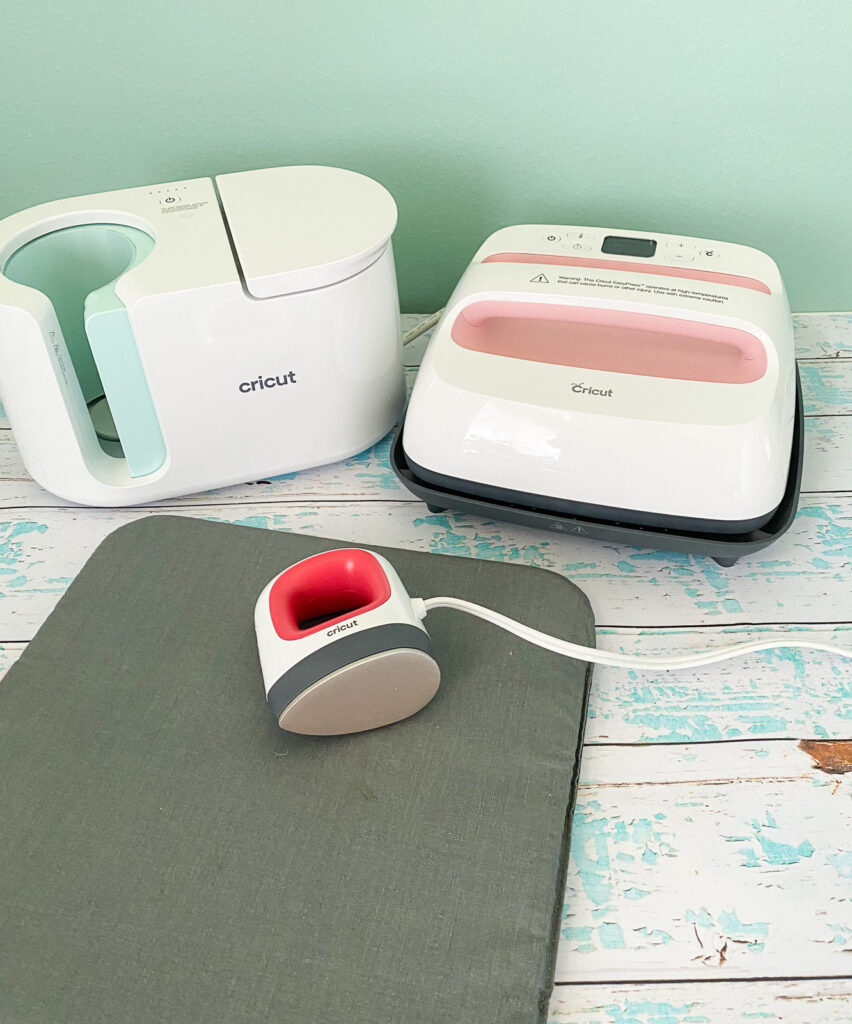 Which EasyPress Mat Size Should I Buy?
The EasyPress mat protects your work surface from heat. It also helps distribute the heat from the EasyPress.
There are currently 3 EasyPress mat sizes available: 12 x 12″, 8 x 10″, and 20 x 16″.
Your mat size should be slightly larger than your EasyPress size.
I have the 9 x 9″ EasyPress and the 12 x 12″ mat.
Be sure to read my tips for using an EasyPress.
Pin for Later!